The Power of Self-Care in Parenting
The goal of parenting is to raise happy and healthy individuals with strong moral and ethical views and behaviors. For this reason, parents often establish rules for their children to follow, limit exposure to too much media, and work to instill life skills that provide children the tools to be the best version of themselves.
But often times parents leave themselves on the back burner and have difficulty modeling what they expect their children's behaviors to show. They instead follow the motto "do as I say, not as I do." But because parents are the most important role model for their children, even though family members, teachers, and coaches have a significant impact on a child's development as well, this leads to confusion for children and can often create frustration.
Your Best Self Takes Care of You Too
For this reason, it's important for parents to practice self-care. Like the airplane rule of putting the oxygen mask on yourself before your child, parents must take care of themselves in order to be the best for their children. To do this, parents need to preserve their mental and physical wellbeing so they can model healthy behaviors and better support their children during these difficult times.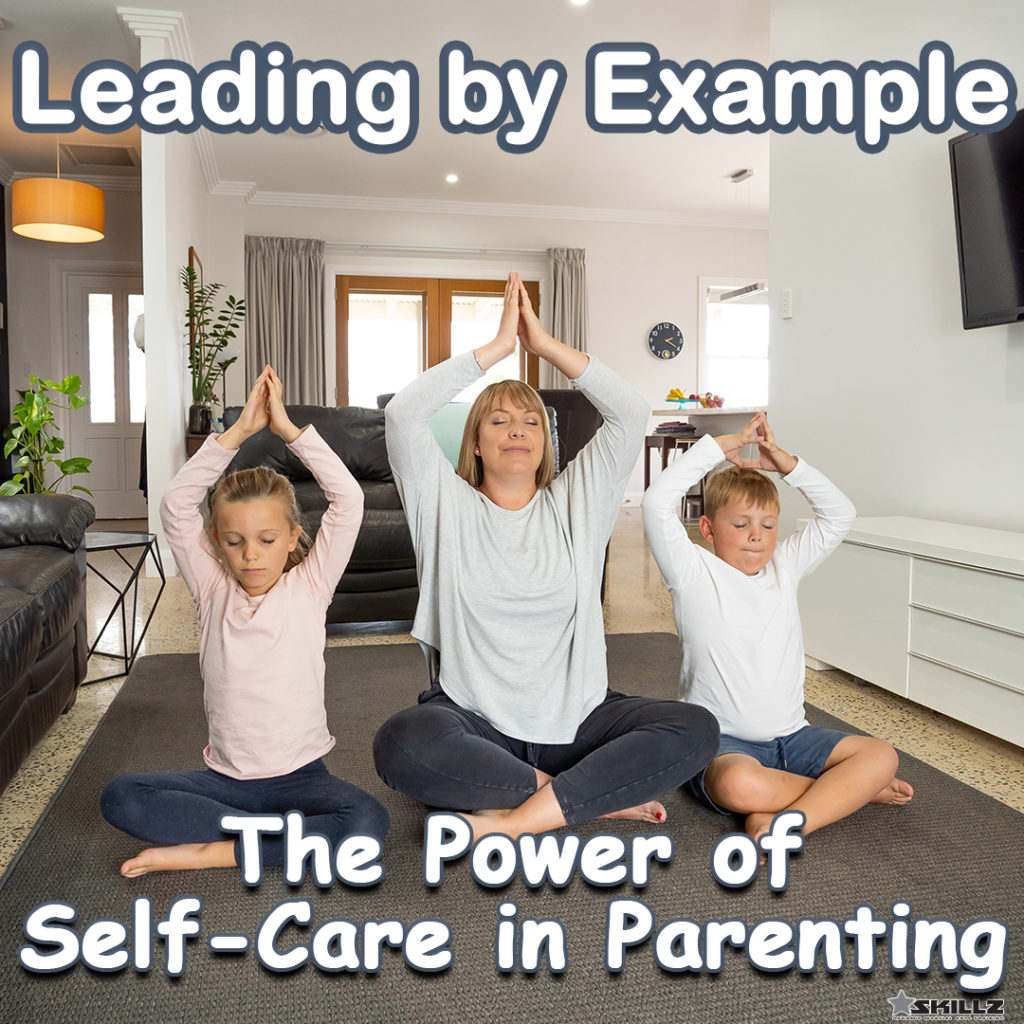 Self-Care in 4D
Much like the SKILLZ program aims to help children develop in 4D, it's important for parents to take care of themselves physically, intellectually, emotionally, and socially. This wholistic approach to wellbeing demonstrates healthy role modeling for children and helps them develop beneficial behaviors and attitudes as a way of responding to the outside world. Especially in times of uncertainty, it is even more important for parents to teach children powerful positive ways of living life through modeling.
Physically
Parents often cheer from the sidelines and fan clubs while their children are getting their bodies movings in sports and activities. But adults can benefit even more from being involved in a form of physical activity. The CDC reports that "being physically active can improve your brain health, help manage weight, reduce the risk of disease, strengthen bones and muscles, and improve your ability to do everyday activities." There are even activities where parents and their children can train together, like at Southwest Arkansas Taekwondo.
Intellectually
Schools and educational programs are designed to build our children's brains. As adults, we've moved past the basics, but still need mental stimulation to continue that desired state of "mind over matter." Over the past few years, the rise of podcasts and access to audio books have given gateways for adults to engage in intellectual development right in the palm of our hands. Tim Reynolds, MD, author of Living Every Minute, calls his vehicle a "university on wheels," utilizing idle time driving from place to place to listen to books, lectures, and podcasts. This gives the opportunity to continue to develop knowledge about any subject without compromising time at home or work.
Emotionally
We strive to teach our children how to regulate their emotions and cope when they have difficult feelings but, with the weight of all the responsibilities parents have, our emotional health is just as important. Finding ways to turn negative self-talk or work through stress is imperative to leading by example. Journaling, meditating, and even simply practicing gratitude can breed a positive emotional well being.
Socially
Humans are social beings and connection is a vital part of our experience. But many adults find it hard to create and keep friendships in the wake of busy schedules. Prioritizing social self-care by intentionally nurturing relationships with others is critical. These opportunities may be closer than you think, too. While sitting in the fan club or side lines while your child is at practice, scheduling regular date nights with your significant other, and even sending a quick note to a family member are all ways for parents to nurture their social self-care.
While nourishing positive relationships is important, recognizing and cutting out relationships that are negative or draining is equally so. The Health Coach Institute says it well, "Your relationships should uplift and fulfill you, not deflate and drain you."
Initiating Self-Care
An approach parents can take to initiate this self-care is by utilizing the Parent SKILLZ information. When parents are attuned to their own feelings and patient with themselves in the midst of multiple changes, it teaches their children positive coping skills. Adapting to new routines and creating consistency then allows parents to take care of themselves which gives them to ability connect with their children and have more forethought in their parenting. Creating these connections will nurture the parent-child bond and prompt positive role modeling and learning.
Lead By Example
Remember, children learn by observing so parents should lead by example. When parents are stressed and emotionally drained, they model behaviors that are contrary to what they intend to teach their children. And no, parents are not perfect and mistakes will be made. However, being mindful when these things happen can create opportunities to teach children humbleness and forgiveness which are invaluable life skills.