Patterns (sometimes called "forms" and for Karate "katas") are a standard set of movements that are memorized by students based on their rank. Students are required to perform their pattern with skill and accuracy in order to achieve required stripes each cycle and at belt testing in hopes to earn their next rank. But the question is…other than tradition…why do we do them?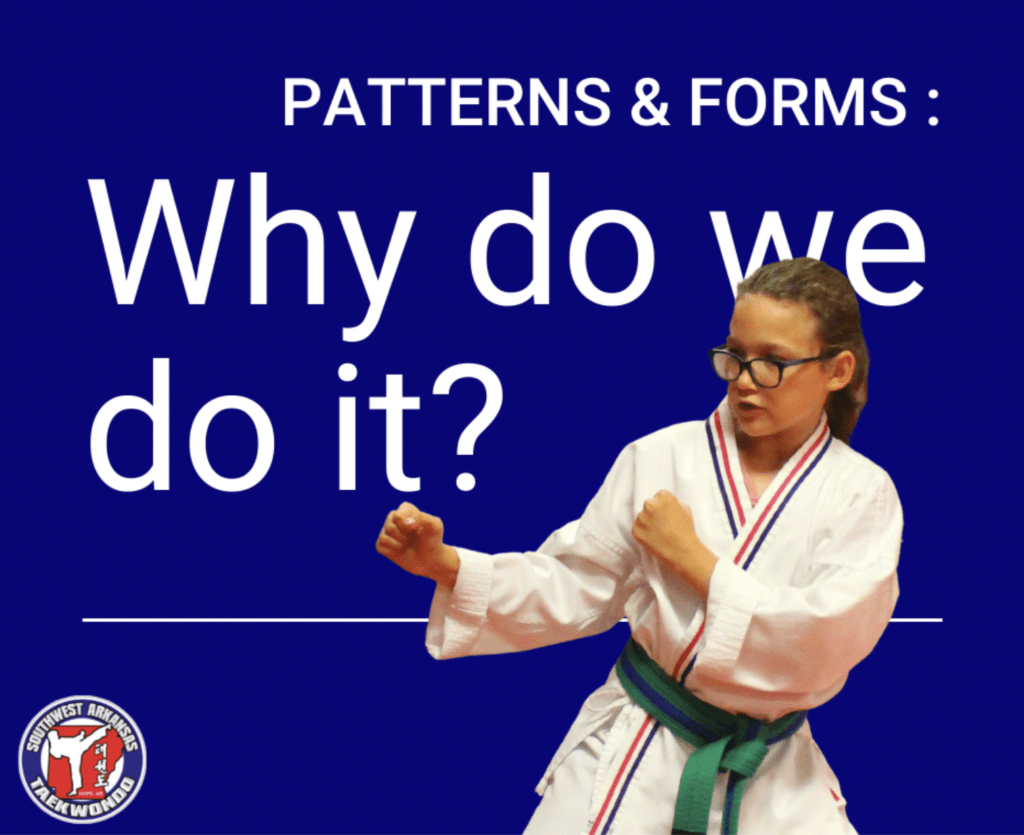 PHYSICAL BENEFITS
Patterns allow for learning and practicing of proper technique of offensive and defensive moves without a partner. Students learn not just punches, but how to punch properly – using the correct part of the fist and with rotation – to create the not only the best looking punch but one with power and accuracy. They learn not just blocks, but what they're blocking against and the angles and rotation to effectively block. There's a breakdown of the mechanics of each move that develops the muscle memory needed to use those moves in sparring or in a self-defense situation.
Plus, the correct tensing and relaxing of muscles develops a students' fitness in a distinctive way. Practicing single techniques from or patterns as a whole repeatedly with the right intensity and technique can be used to build cardiovascular and muscular strength similar to a HIIT-style workout. From chamber to finishing the move, the heart rate elevates. The small rest between each move gives time for it to lower again. This up and down can give a great aerobic workout, which the Mayo Clinic says will increase blood flow to your muscles and back to your lungs, delivering more oxygen to muscles, efficiently eliminating wastes, releasing endorphins, and reduces health risks over time. (1)

INTELLECTUAL BENEFITS
As students progress in their martial arts journey, they continue to learn longer and more difficult patterns. Memorizing the steps, directions, and movements is a fun and unique way to develop a strong memory – which plays an important role in focus and following directions, especially in children. (2)
In addition to learning their pattern, students at SWAT are also required to learn the pattern's meaning: a snippet of history that inspired Taekwond's creators to develop it. This helps students learn how to learn and how to store that learned information for later use. One parent attributed her son's success in giving a tough speech in school to having to memorize pattern meanings. She said that because he had been practicing how to memorize them and then gain the confidence to say them in front of his peers, giving a long speech about a studied topic at school was a breeze.
EMOTIONAL BENEFITS
Learning to control our emotions is essential to a well balanced life. The intensity and focus required to make a pattern look its best requires imagination, confidence, and the ability to control your emotions; especially when we don't do a particular movement as well as we hoped. Students must use this to develop a strong sense of mental toughness. It's easy to see a technique as "too hard" and give up, but to progress in the art, they must develop the ability to persevere and push past mental blocks. This practice teaches students to see the bigger picture, set and achieve goals, and leads to higher self-esteem and confidence.
SOCIAL BENEFITS
In each individual class, students are learning the same patterns together. We call this a "rotating curriculum." Instructors can easily see when students may need additional help and can spend the time needed discussing each important detail of techniques that make up the pattern. But this also creates a common denominator for students of that rank, no matter their age. They learn to communicate in helping each other if they see a fellow student struggling. This, in turn, develops understanding and leadership skills that will transfer into their daily lives.
And, throughout the testing cycle, classes are filled with fun drills to work pattern memorization, developing versatility, concentration, and testing their skills. This can also create a competitive atmosphere which pushes students to perform at their best to stand out among their peers.

JUST PLAIN COOL TO WATCH AND LEARN
Finally, some patterns are just SO COOL to learn and watch! I remember watching higher ranks perform patterns with jumps, twists, and incredible feats of balance like a child at a circus performance. I couldn't wait to get to those levels and learn those patterns! Now, as an instructor, I get to teach others this incredible facet of Taekwondo, and I love seeing the looks on students' faces when the light bulb goes off in their heads, having learned something that seemed impossible before. Further still, as a school owner, I get to watch the magic of a student turned assistant instructor I taught have the confidence to teach another.

THERE'S STILL MUCH TO BE GAINED
Many martial arts schools over the years have shied away from teaching patterns in classes, looking more to the "sport" aspects of training or not taking the time to dive into all the pieces of each technique because, yes, it can be a challenge to teach. But, even though the patterns our students are learning were developed many years ago, myself and my team at SWAT understand that there is still much to be gained from learning them.
Written by Katie Gentry, 4th Degree Black Belt in Taekwondo and CEO and Head Instructor of Southwest Arkansas Taekwondo

(1) Mayo Clinic Staff. "Aerobic exercise: Top 10 reasons to get physical." The Mayo Clinic. 05 February 2020. 02 September 2021. https://www.mayoclinic.org/healthy-lifestyle/fitness/in-depth/aerobic-exercise/art-20045541.
(2) Amanda Morin. "5 ways kids use working memory to learn." Understood. 05 September 2021. https://www.understood.org/articles/en/5-ways-kids-use-working-memory-to-learn